10 players who will make you money in 2022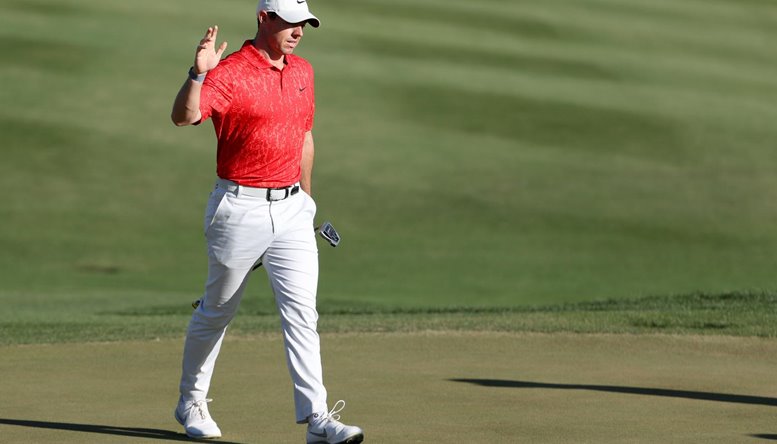 It is a virtual certainty that golf's pool of elite players gets deeper every year. Young talent seems never-ending. And even older golfers are finding a way to compete.
When attempting to handicap a full schedule of PGA Tour events, it might seem daunting to differentiate one amazing tour player from another. But keep in mind: It's just as daunting for oddsmakers, who are tasked with assigning odds to the entire field.
The influx of data and advanced metrics has allowed handicappers (and data scientists such as myself at RickRunGood.com) to level the playing field and efficiently assess the hundreds of golfers that will tee it up on tour this year.
Just as we did at the start of the season, we have identified a list of golfers who grade out well on year-long models—and possess the ability to have "ceiling weeks" that often lead to victory. Which means more money in your betting and DFS accounts if you can catch value on their betting odds and fantasy salaries.
Max Homa
Homa is one of the most popular golfers off the course, and now he's becoming one of the more valuable golfers on the course. His career progression is nothing short of astonishing, as he has improved his advanced metrics every year.
The exciting thing about Homa is that he's one good putting week away from victory … at all times! In fact, Homa gained four-plus strokes with his putter on five different occasions in 2021. He earned a top-10 finish in all of those events, including two victories. He was the only golfer on tour to earn a top-10 finish every single time he gained that many strokes on the greens, per the RickRunGood.com golf database.
It's valuable to be able to unlock that type of result a few times a year.
Viktor Hovland
Hovland ended 2021 by hoisting a trophy in each of his final two starts: the World Wide Technology Championship at Mayakoba and the Hero World Challenge. He played exactly 100 rounds in his 2021 campaign and gained strokes on the field in 78 percent of them, the second-highest rate on tour behind only Jon Rahm.
With his elite ball-striking providing a solid floor, the data tells us Hovland is likely to be in contention often in 2022.
Daniel Berger
Let's get nerdy for a second. Strokes-gained metrics are the most valuable tools we have in golf, but it doesn't distinguish between gaining two strokes at the Barracuda Championship and two strokes at the U.S. Open. Thanks to additional metrics like strength of field, we are able to create a "weighted" strokes-gained metric that allows us to properly see who is playing the best golf in the best fields.
That's a lengthy way to introduce the fact that Daniel Berger has gained 1.52 strokes in "Weighted Strokes Gained" in his last 50 rounds. It's the eighth-best mark on the PGA Tour, which means he's showing up on the first page of the leader board in majors
Webb Simpson
Despite five top-10 finishes, Simpson's 2021 seems disappointing. He dealt with a neck injury that forced him to withdraw from the Wells Fargo Championship, an event that is literally held in his back yard. He wasn't particularly sharp when he returned from injury but started to play better toward the end of the calendar year.
He gained 9.84 strokes on approach at the RSM Classic, which is a sign of vintage Simpson. I expect him to return to his winning ways in 2022.
Cameron Smith
Over the past two years, Smith has been doing two things very well: 1) winning and 2) contending in strong fields. Smith was victorious at the Sony Open in 2020 and then partnered with Marc Leishman to win the Zurich Classic in 2021.
When you look at the past 100 rounds of all golfers, Smith is fourth in weighted strokes gained behind only Jon Rahm, Dustin Johnson and Patrick Cantlay. When the best players in the world get together, Smith is routinely competitive. That's a great sign for his prospects in 2022.
Jordan Spieth
The best way to win on the PGA Tour is to tap into your ceiling, and Spieth does that more frequently than anyone else. In 2021, Spieth gained at least five strokes on the field in 13.4 percent of his rounds—the highest mark of anyone in the world.
Spieth joined Jon Rahm as the only golfers to accomplish that feat more than 11 percent of the time, per the RickRunGood.com golf database.
Rory McIlroy
McIlroy's standards are so high, they are nearly impossible to live up to. He's one of the few golfers who are measured by major championships alone, but that won't stop him from lining your pockets in 2022.
McIlroy won the Wells Fargo Championship and the CJ Cup in 2021 while showing an ability to tap into his strengths. Vintage McIlroy will dominate the field with his driver, and that's showing up in his advanced metrics again. Over the past 50 rounds, only Bryson DeChambeau and Jon Rahm have gained more strokes off-the-tee than McIlroy.
Sergio Garcia
There might be another victory on the horizon for the 41-year old Spaniard. Gaining 1.1 strokes per round in the ball-striking categories, Garcia is still elite off-the-tee and with his approach play. It's the flat stick that has been his nemesis, but Garcia closed 2021 by gaining 4.26 strokes putting over his final five events.
Combine that with the fact that he has been a tour average putter on Poa annua and Bermuda greens should mean that Garcia will have plenty of opportunities to capitalize on his ball-striking and lift another trophy soon.
Dustin Johnson
Johnson provides one of the more interesting storylines as we head into 2022. He didn't earn a PGA Tour victory in 2021 and didn't feel like the force of nature that we have seen for over a decade.
Is Father Time catching up to DJ, or is he poised for a breakout? I lean more toward the latter, thanks to some impressive putting. Johnson gained, on average, 0.39 strokes to the field with his flat stick—his best putting year in over a decade. He gained strokes/putting in 12 of his final 15 measured events of the year.
I'm willing to bank those gains on the greens and assume his elite ball-striking, or something close to it, returns in 2022.
Seamus Power
Power finished 2021 as a full-time PGA Tour member thanks to his victory at the Barbasol Championship in July. In the past 50 rounds, Power is averaging 1.44 strokes gained, second to only Jon Rahm and Louis Oosthuizen. Now, Power takes a hit in weighted strokes gained (when you account for strength of field), but he's still 27th, ahead of someone like Tony Finau, who won a playoff event last season.
Combine that with his excellent ball-striking and his ability to gain strokes putting on every type of surface, and you have someone to be excited about for 2022.
(By GolfDigest)