SMBC Singapore Open targets for teenage titans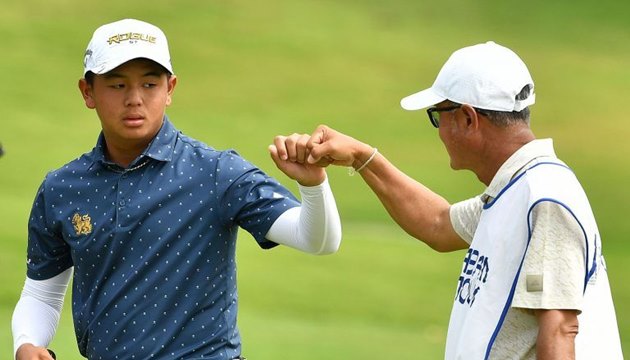 In the eyes of Ratchanon 'TK' Chantananuwat, Joohyung Kim is a veritable veteran.
At the ripe old age of 19, Kim is already into his fourth year as a professional. On Sunday, he triumphed in the Asian Tour's inaugural The Singapore International.
In so doing, he's not only broken into the top-100 in the Official World Golf Ranking (OWGR) in 89th spot, but also soared to the summit in the Asian Tour's 2020-21 Order of Merit standings.
It's a position the Korean seeks to confirm at this week's season-ending SMBC Singapore Open at Sentosa Golf Club's award-winning Serapong Course.
Among his rivals there will be TK, the 14-year-old Thai amateur prodigy who is continuing to turn heads.
A student at Shrewsbury International School in Bangkok, TK's burgeoning reputation was further enhanced with a third-place finish at Tanah Merah Country Club in what was his first appearance in a professional tournament outside his native Thailand.
Poised to break into the top-100 in the World Amateur Golf Ranking, TK's recent exploits on the Asian Tour – he finished top-30 in both the Blue Canyon Championship and Laguna Phuket Championship late last year – have also enabled him to climb the ladder on the OWGR.
On the back of his heroic effort at Tanah Merah, the Thai amateur prodigy has climbed to 462nd in the OWGR standings. Astounding.
One man who is not surprised at TK's meteoric rise is Andrew Knott, an acclaimed mind coach and Director of Coaching at the Singha Elite Golf Performance Centre at Bangkok's Thana City Country Club.
A member of the PGA of Great Britain & Ireland who has worked with many of Thailand's top players over the past decade, Knott has charted TK's development at close hand since setting eyes on him for the first time in 2013, when TK was aged five.
Knott said: "I don't like to add to the mounting expectation as there is so much that can happen on his journey. But the sky is the limit for TK.
"He is the first male player I have seen in Thailand who shows the attributes to compete at the very top … and that means the Majors. Injuries aside, he'll become the number one Thai golfer, if not the world number one."
On the topic of Majors, such is the confidence of the Thai amateur prodigy that he sees the SMBC Singapore Open as a passage to the 150th Open Championship, to be staged at St Andrews from July 14-17.
Part of The R&A's Open Qualifying Series, the leading four players who finish in the top 12 and ties at Sentosa, and who are not already exempt, will earn places in the game's eldest Major.
It's a spine-tingling thought that is uppermost in TK's mind.
Asked about his prospects over the Serapong Course, TK said: "I think (my chances) are pretty decent if I play good golf. I played Sentosa once and, like Tanah Merah, it's a really hard golf course. It's challenging, and you need to play some real good golf.
"So I think if I hit my driver straight, like I did for the majority of The Singapore International, I have a decent chance. I'll try to win it … and I've got to secure a spot in The Open as well."
Hoping to join him at St Andrews will be Kim. He can book his ticket either via his OWGR position or by finishing top-12 this week, which would go a considerable way to landing the Asian Tour Order of Merit crown, his over-riding target.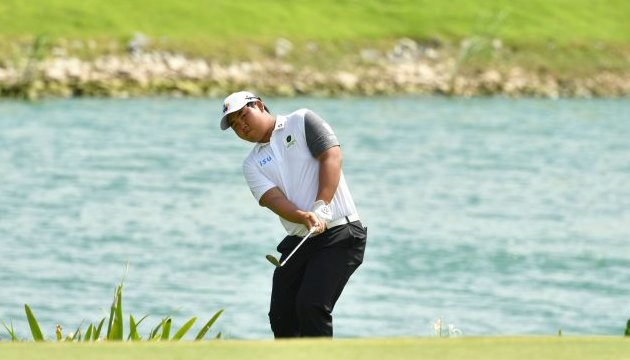 SINGAPORE- Joohyung Kim of Korea pictured during round four, Sunday January 16, 2022, at The Singapore International golf event at Tanah Merah Country Club, (Tampines Course). The US$1 million Asian Tour event is being staged January 13-16, 2022. Picture by Paul Lakatos/Asian Tour.
"I didn't know I would be in this position. But here I am. It's a very important week for all the players, myself as well," said Kim.
Even at his tender age, however, experience has taught him not to get too far ahead of himself.
"It's a win today," he said in the immediate aftermath of his Tanah Merah triumph. "But definitely tomorrow it's back to the grind.
"I want to go as far as I can (in the game). Like I said, it's a win. But my team and me, we're never satisfied. So, it's back tomorrow, back to the grind and trust the process." Spoken like a true veteran.
(By AsianTour.com)