Yas Links primed for its first Abu Dhabi HSBC Championship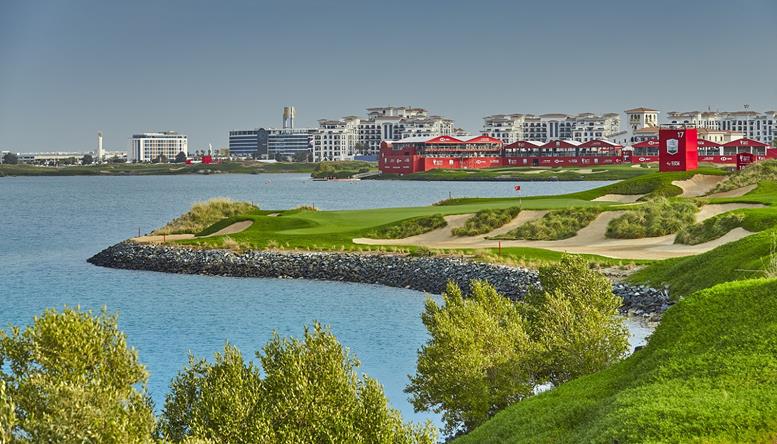 Yas Island, internationally renowned for its famous attractions, diverse experiences, luxury hotels and exceptional restaurants can now add another string to its bow as a top-notch golfing destination ahead of this week's Abu Dhabi HSBC Championship, which is due to take place between Thursday 20th – Sunday 23rd January.
Following news from the Abu Dhabi Sports Council and the DP World Tour at the end of 2021 that the 2022 Abu Dhabi HSBC Championship is to be held on Yas Island for the first time, the team at Yas Links Abu Dhabi have been working hard ever since to ensure the course is in pristine condition. Therefore, opening a new chapter in the prestigious tournament's history. As not only the first of the calendar season but being a Rolex Series event with an $8m prize fund makes this is one of the highest calibre tournaments on the DP World Tour International Schedule, ensuring that this year's Abu Dhabi HSBC Championship is one of the season's unmissable tournaments.
Matthew Waters, Group Director of Golf - Saadiyat Beach Golf Club, Yas Links Abu Dhabi & Yas Acres Golf & Country Club, is well versed in hosting large scale events at Troon venues, commenting: "We are incredibly excited to be hosting the Abu Dhabi HSBC Championship on Yas Island for the first time. With the tournament due to start tomorrow, we are delighted with the feedback from the players, caddies and coaches and it is a testament to the hard work from the whole team here at Troon, who have ensured the course and facility is championship ready."
By moving to one of the world's fastest growing leisure and entertainment destinations in the Middle East confirms Yas Links Abu Dhabi's offering as not only a unique location for first-class hospitality but also underlines how the Kyle Phillips designed course is one of the very best in the world.
Having recently been voted number one in the region, the team at Yas Links Abu Dhabi has worked hard to make sure that not only the players competing but also those fans visiting will enjoy the very best experience. Huge credit must go to the entire agronomy team and volunteers for their tireless effort in preparing the course to ensure world-class conditions. The improvements will be clear for both visiting fans, as well as those tuning in from all over the world. The man who made this all possible in ensuring Yas Links Abu Dhabi is up to Tour standard this week is Yas Links Abu Dhabi Golf Course Manager, Corey Finn who said:
"We are all ready for an action-packed weekend of top golfing action. Set alongside the water's edge, against dramatic views of the Arabian Gulf, players from the DP World Tour will face some real challenges, particularly if the wind gets up in the afternoon. How the players will deal with the course's signature finishing holes on 16, 17 and 18 will be fascinating, as they are regarded as one of the toughest trios here in the UAE.
Finn continued: "The last eight to twelve weeks, we've worked hard as a team to ensure that the course is playing as a true links. We've had team members from the Troon cluster join us from Saadiyat Beach Golf Club and Yas Acres, as well as international volunteers, for which I am incredibly grateful. As such, I am confident Yas Links Abu Dhabi will deliver this weekend and it will give the players that variety of being able to play a whole range of shots, relying on their skill and creativity.
The championship's move to Yas Island is an exciting one, particularly for families. As over the four days of the tournament, they will be in close proximity to not only the premiere destination for fun, leisure and retail but most importantly entertainment in Abu Dhabi. Aldar Investment, the leading real estate developer has worked hard to ensure that the island has become a premiere destination. As Yas Island is now home to many of the capital's main tourist attractions, including Yas Waterworld, Warner Bros. World Abu Dhabi and Ferrari World.
To find out more about the 2022 Abu Dhabi HSBC Championship please visit:
https://www.europeantour.com/european-tour/abu-dhabi-hsbc-championship-2021/
For more information about Yas Links Abu Dhabi, please visit: https://www.troonabudhabi.com/yas-links/
About Yas Links Abu Dhabi
Yas Links Abu Dhabi, a first in the Middle East - where noble heritage combines with impressive surroundings to enrich both your game and your senses in a truly unique environment. The Kyle Phillips designed course ranks #48 in the world golf rankings and combines visual glory with the thrill of golf's ultimate test. The 18-hole course presents the kind of challenges that golfers from all over the world dream about whilst the 9-hole par 3 course and practice facilities are the perfect fit for all abilities. The clubhouse is set alongside the water's edge, against dramatic views of the Arabian Gulf which provides the perfect setting for dinning and events.
About Troon
Headquartered in Scottsdale, Ariz., Troon is the world's largest golf management company providing services at 630-plus locations around the globe, including managing 650-plus 18-hole equivalent golf courses. In addition to golf, Troon specializes in homeowner association management, private residence clubs, estate management and associated hospitality venues. Troon's award-winning food and beverage division operates and manages 615-plus food and beverage operations located at golf resorts, private clubs, daily fee golf courses and recreational facilities. With properties located in 45-plus states and 30-plus countries, Troon's family of brands includes Troon Golf, Troon Privé, Troon International, Indigo Sports, CADDIEMASTER, True Club Solutions, Cliff Drysdale Tennis, Peter Burwash International, Casa Verde Golf, and RealFood Hospitality, Strategy and Design. For additional news and information, visit www.Troon.com, or connect with Troon on Facebook, Twitter, Instagram, Troon Chronicles, Press Room, or subscribe to Troon Magazine.
For all media enquiries, contact:
Daniel Wright
Yas Links Abu Dhabi
971.50.627.6382
dwright@troon.com
Fredrik Jonsson
Performance54
971.54.555.9094
fredrik.jonsson@performance54.com
Clinton Norris
Troon International
971.56.687.6116
cnorris@troon.com